Galloway Bay Outfitters - Testimonials
Here's what a few of our customers have had to say about us.
Have a testimonial of your own to share?
Send a Testimonial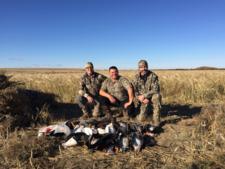 Brett Fish
Fall 2018 - Wayzata, Minnesota
"I discovered Galloway Bay Outfitters at the Minneapolis Northwest Sport show in the Spring of 2018 as we were looking for a new outfitter. Our group booked our hunt for mid-October. When we arrived, Casey and Alaina had everything ready for our group, and the best part is they only accommodate one group at a time. Everything was turn key; all we needed was our hunting clothes and shotguns. We had three great days of hunting with Casey and he always put forth his best effort to provide the best possible hunt, even if the birds did not cooperate. The hospitality provided by Casey, Alaina and even Alaina's dad, was above and beyond making us feel like a part of their family. We had some of the best meals while staying with them. Because of Casey and Alaina's attention to detail, I will definitely be back and will keep using Galloway Bay as my outfitter of choice for a Canadian waterfowl experience."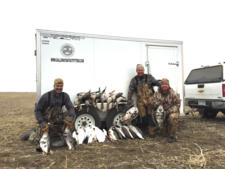 Matt Schroeder
October 2018 - Willmar, Minnesota
"Hunting with Casey and Alaina at Galloway Bay is something all waterfowl hunters should experience! You'll see the largest concentration of Speckly Belly's anywhere in the flyway, mixed with Canada's, snows, blues, cranes and ducks. Incredible amounts of birds all moving through the region at the same time, makes for the most unique waterfowl experience you can find! Most importantly, Casey and Alaina are incredibly accommodating. Hunting with them is not about an outfitter telling you "how" to hunt, but friends helping enjoy the hunt and hunting "with" you. Go hunt with Galloway Bay ASAP! And then go back every year."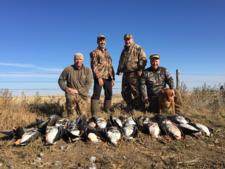 Ed Anderson
October 2018 - Bigfork, Minnesota
"We had a fantastic time with Galloway Bay Outfitters. This hunt was my 50th birthday present from my wife and I was completely impressed with the attention provided to us. Casey's connections with land owners and his knowledge of the birds and flight patterns allowed us to get under the birds every day. Beautiful country and outstanding hosts. Alaina and Casey both made us feel like family and we really enjoyed our time with them. Definitely plan to come back and would recommend Galloway Bay to anyone looking for outstanding goose hunting and hospitality."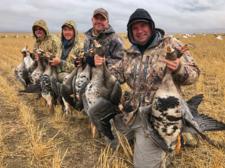 Jason Mitchell - Passion for the Hunt Host
Fall 2018 - Devils Lake, North Dakota
"Galloway Bay Outfitters is located right in the heart of the Saskatchewan migration and offers great hunting. Expect to see puddle ducks, snow geese, sand hill cranes, specks and Canada geese. This is small town Canada at its best."